Impact Test
Our rooflights have been tested for non fragility using a large body impact test based on BSEN1873:2005 on a glazed roof assembly.
The tests assessed the resistance to impact by a large soft, heavy body such as maybe experienced when people fall onto a roof surface. The report describes the test methods and results from non-fragility impact tests carried out on 25th January 2011 on a sloping, glazed panel roof assembly with glazed ventilator rooflight inset. All of the tests were performed with the details described in the report with the middle of the assembly raised so that the rooflight had pitches of 10 degrees on one side and 15 degrees on the other. The aluminium box section support rails and the centre steel support were fixed to un-braced sigma section multi-beam metal purlins.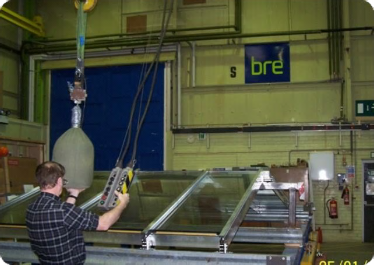 The tests were carried out under the BRE Standard Terms and Conditions.
Please feel free to download the test report from BRE and view the video below.